Booking a wedding band in France - A complete guide
Booking a band for your wedding in France can be daunting, especially if you don't know anything about the music industry. For over 14 years, I have been a professional musician performing at weddings. Since 2012, I have also made a career in providing numerous bands for weddings in France. You can check out my page for further information: wedding bands for hire in France. With this wealth of knowledge, I have put together a complete guide to booking a band for your wedding – from the unique perspective of a musician and a professional booking agency.
Credit for the pictures we used in this post: Oliver Fly, Louis Brunet, Clara Rice, Charlotte Palazzo, Neupap photography, Dan Petrovic, Ian Holmes Photography, Fotorota studio, Gabriela Oswald. All rights reserved to the photographers, not to be used without their permission. Videographer – video Four Kicks: Airsnap.
The bands I present in this article live in France and are full-time musicians. They perform almost exclusively for high end private events and weddings. My focus is on young, exciting modern bands with a professional and fun attitude. These musicians either have a business or are intermittent du spectacle, which is an official French title for full time professional musicians. They have performed for the likes of Prince Albert II of Monaco, Elton John, Bono, James Blunt, Ed Sheeran and many more. But first, let's talk about how much you should expect to pay and why.
Things to ask and lookout for to make sure you have the perfect band
Here is list of things a full time professional band will need to provide or supply. Make sure you mention the different topics below when you first get in touch with a band to request a quote. All of this determines the price of a band and what you can expect. Obviously, the quality of the musicians is important – if the band is bad you are not going to book them, right? But many other factors come into play when looking for entertainment and understanding a fee. I will also give you tips to make sure you make the most of your entertainment, how to get the best bands, and how to ask for discounts and perks!
1. Quality of the equipment.
It is crucial to have a state-of-the-art sound system, instruments and lighting. The quality of the equipment provided will make a huge difference in the quality of the performance and lead to a clean, powerful sound that will get all the guests on the dance-floor.
Sound and lighting equipment
I've seen bands perform with bad equipment and the result was terrible. Noisy, crunchy speakers and automatic strobe lighting will give you the impression of a high school dance party. 
To give you an idea of costs, a wedding band like Four Kicks spent between 35,000€ and 40,000€ on equipment. They regularly upgrade equipment each year to ensure the best possible result. They also have a spare sound system in the van so if a speaker breaks or a drink gets spilled on it or on a mixing desk, they can replace the damaged item.
Transportation
Transportation is also important! You don't want your band's cheap, 20-year-old van breaking down on the way to your wedding. A suitable van is 20,000€ – 30,000€. A professional band needs to travel in reliable conditions.
Accommodation
Don't be surprised if the band charges for 2 nights accommodation. When they need to travel for many hours, they must arrive a day early to guarantee they arrive on time and rested for next day's performance.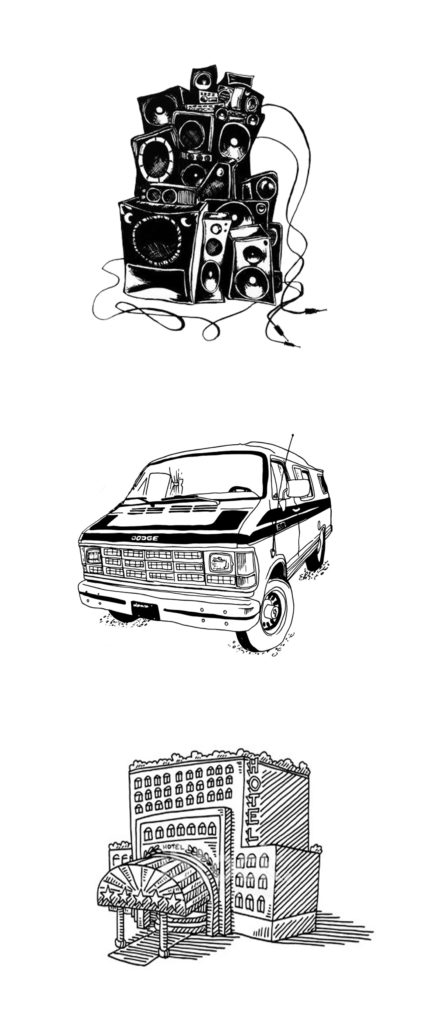 2. Professionalism
You want to make sure your musicians will show up on time, set up and soundcheck before any guests arrive. It is also important they have a good attitude, dress according to the occasion, drink enough to socialise with your guests but no too much that they will perform badly. Also, that they have a replacement plan in case one of the band members can't make it due to special circumstances such as sickness, an accident etc. A professional band will have a plan for every tricky situation that may arise. Don't hesitate to ask if they have you covered.
Important tip!
Do not place the bar outside or in a different room as the band. Inevitably, your guests will get a drink after dancing for a while and perhaps have a cigarette, a chat… time goes faster after a few a drinks and by the time they get back the band will be almost finished. Having the bar in the same room garantees a nice big crowd and a great ambiance all night.
3. Flexibility
When booking a professional wedding band, you get flexibility. This means that they don't have a timeline! Parties ALWAYS run late and the band needs to start when you are ready for them. The bands we work with don't apply penalty fees should they start later than expected!
4. Demand
The price of a band also depends on the demand. A popular act will get 10, 20 inquiries for the same weekend date. This is why a very popular band will be more expensive than a band performing only a few gigs a month.
5. Setlist
A wide variety of songs is a must. Take a look at the band's setlist and make sure to find all the classic favourites and modern hits.
A band will typically perform for 2 hours, but should guests ask for more then our bands will always play those few extra songs to make the night unforgettable.
However, should you wish the band to play one extra hour because they are amazing, then they will usually charge you for this.
6. Experience
The band you are about to hire has played hundreds of private events over many years. That has to count for something. You can be assured that their experience will allow them to foresee see any problems that may arise, and deal with it professionally. 
A band usually arrives in the morning to set up and leaves after guests depart, breaking down the equipment at 4-5am. Bands often travel a day before and 1 day after the wedding, which is a full 3 days for one event. Keep in mind, this also means they can't perform during travel days.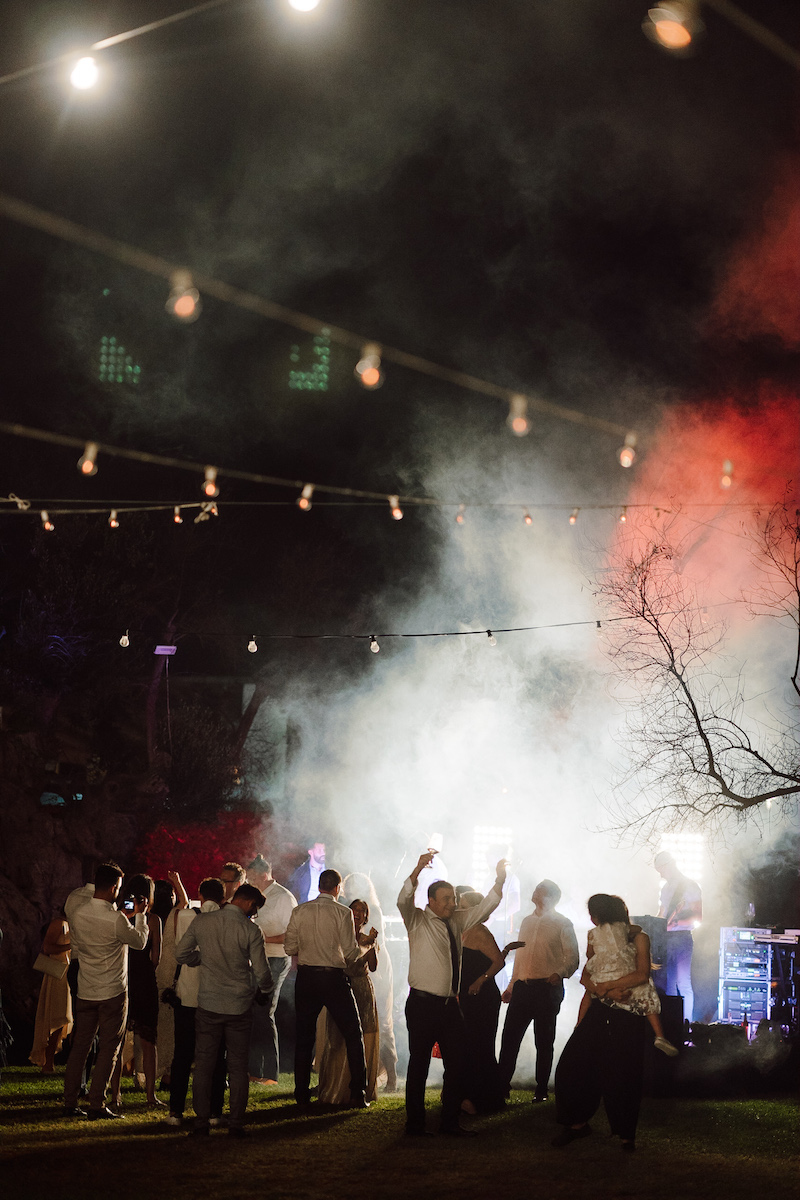 Getting discounts and perks when booking a wedding band in France
Let's go over a few ways to get you some great package deals, discounts or extra services.
Getting married a weekday
We will automatically offer a discount for weekday weddings from Monday to Wednesday. Not all bands will do this so make sure you ask. Don't feel bad about negotiating your fees for a Tuesday wedding. Have a chat with the band and you may get a nice surprise as bands are usually booked from Thursday to Sunday. Also, getting married in April or November will allow you to get discounts as wedding bands in France will be the busiest from May to September/beginning of October
Borrow the PA system
If there is still an hour of party to cater for, and the budget is too tight to add a DJ after the band's performance, then ask if you can use the band's PA system after the show.
If the sound system is indoors, protected from the weather and in a secure room that can be locked after the party, then some bands will allow you to use their equipment to finish the party. 
I don't recommend asking a guest or letting your bride's maids run the show. It can get messy and they will fight over the computer to play their favourite songs! Instead, think of a great playlist in advance and don't let anyone mess with your music.
Accommodation for the band
A band will add accommodation fees to their quote, so if you have a few spare rooms available at your wedding venue then offer them to the band, it will save you some cash.
Background music and speeches
If the band's PA system is set up in the same room as where you and your guests are having dinner, then ask the band to take care of the speeches and background music, it will avoid extra costs. 
Music during ceremony, cocktail reception or DJ?
Ask the band if they can also provide different options for music during ceremony, cocktail reception and DJ service. they may end up offering you a great package deal.
How to get the best wedding bands available in France
With so many destination weddings in France, the best bands often get booked at least 1 to 1.5 years in advance. With such high demand, you have to get in first and you should follow a few tips to guarantee a successful booking. Entertainment is such an important part of a wedding. Our clients will always say it was the highlight of their evening!
Check that other important events are not held on the same date you choose for your wedding
For example, avoid getting married during the Cannes Film Festival, the Monaco Grand Prix or even June 21st, which is the French national music day. The best bands usually get hired to perform at numerous private events during these events.
Get married during the week
Top bands are in high demande on weekends. A weekday wedding will increase your chances of having a great band available. 
Winter weddings
Getting married in the winter time means you get to pick your favourite band. Weddings in December, January and February are less common but equally fantastic to those held in the summer months.
You are not ready to book a band but you worry someone else will snap them up while you decide? 
Then ask the band to put an option on the date. This way you will be the first one to know if the band gets another inquiry and you will have first choice to book them or not when things get serious.
I like the band's demo but do they sound great live?
It's not always easy to see a band perform before booking them, so it's important to trust in comments on social media and testimonials of former clients. If you still need convincing then you can ask the band to send you contact details of a previous bride and groom. We often have clients offering to send their email to talk to a couple who need an honest opinion. Former clients who have also experienced searching for entertainment won't mind taking a moment to send you an email and help you booking your wedding band in France.
Choosing the music for your wedding
Songs
You want to make sure your band plays your favourite songs! So, go ahead and ask for their setlist – bands will let you choose the songs you prefer and will include them in their set. FYI: around 15 songs equals to one hour of live music.
When choosing songs, keep in mind that you want the majority of guests dancing, so perhaps start with some older classics, like Beatles, Van Morrison, Rolling Stones. These are songs that everyone will know and they'll get all ages up and dancing. Then slowly move to your favourite modern songs (Bruno Mars, Daft Punk, Ed Sheeran). Once they're up and dancing, all of your guests will keep partying the night away.
Requests
Requests are usually welcome by bands, and if you choose good songs they might learn 1 or 2. Keep in mind that if a band receives 2 or 3 requests per client that's over 100 songs per season to learn. It's impossible to say yes to all the requests.
If you don't want the band to cover your special song then often they will play the first dance via an iPad or laptop and start right after the end of the song. This also gives a nice effect – when the band starts it means the PARTY IS ON and everyone gets up on the dance floor.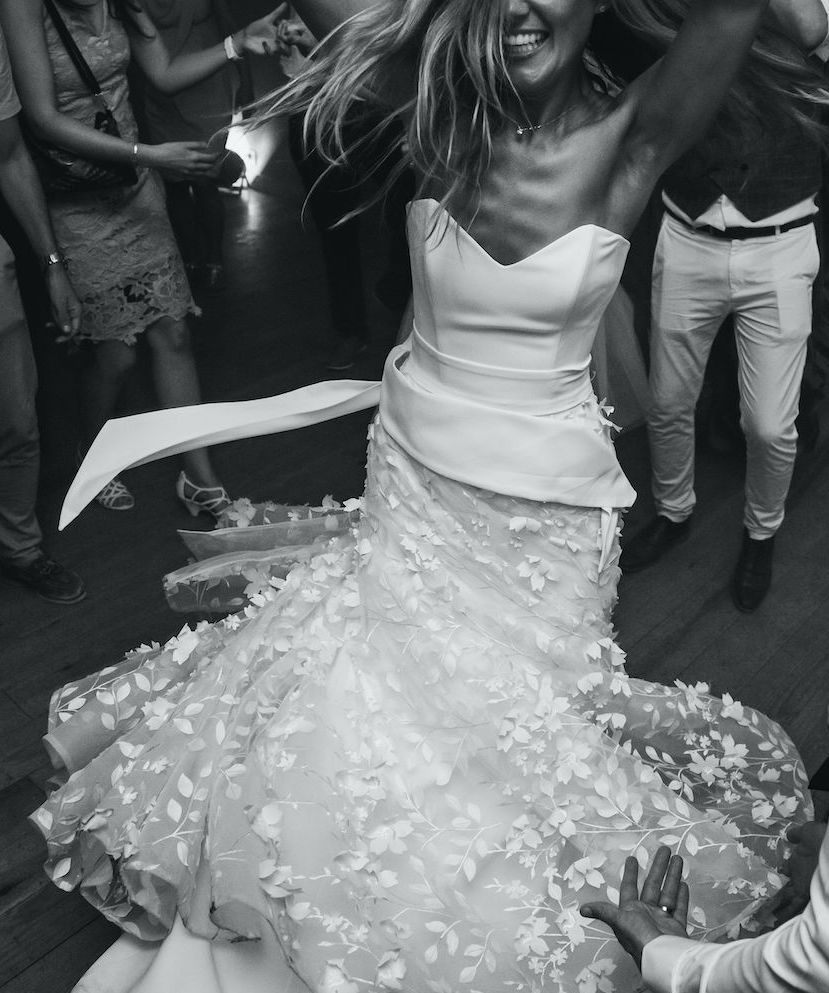 Over the years we have had many song requests from our clients and to inspire you here is our top 10 party songs for a wedding:
Don't stop believing – Journey
I Wanna Dance With Somebody – Whitney Houston
 Mr Brightside – The Killers
Don't Stop Till You Get Enough – Michael Jackson
Can't Stop The Feeling – Justin Timberlake
All Night Long – Lionel Richie 
Bohemian Rhapsody – Queen
Time Of My Life – Dirty Dancing
Jump – Van Halen
Twist And Shout – The Beatles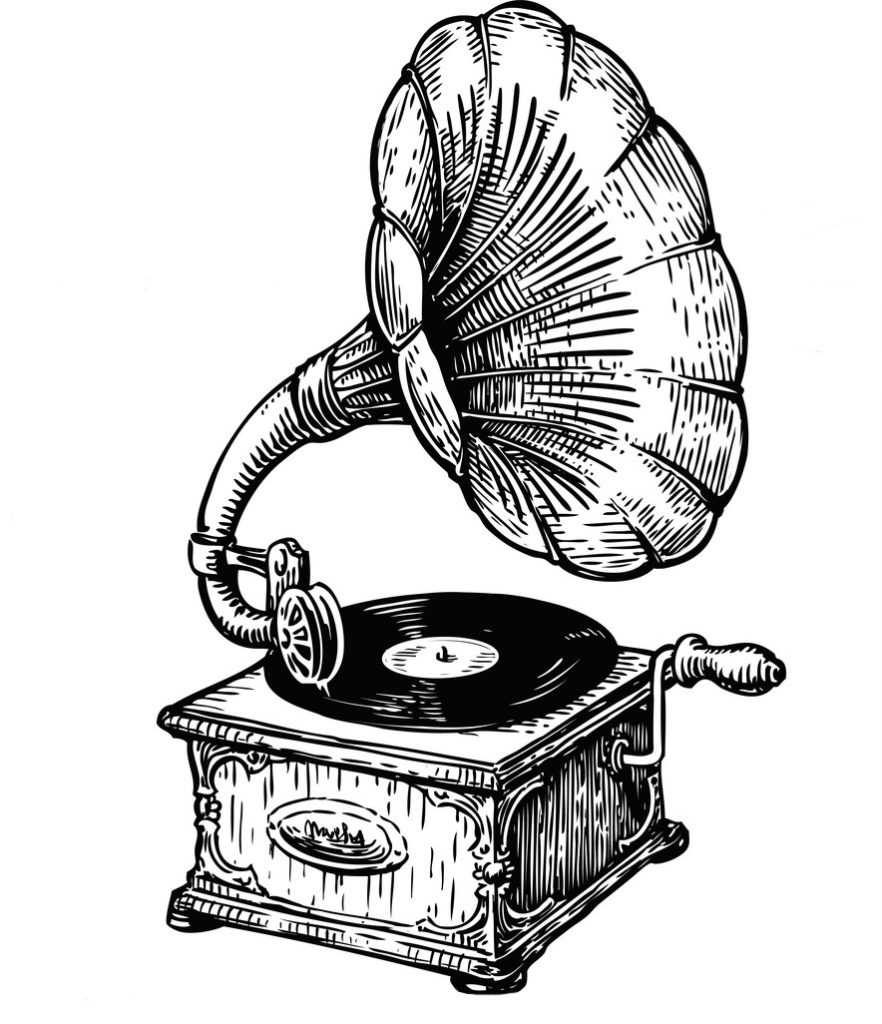 First dance
Now about the first dance… unless you have rehearsed and planned a specific routine, I would suggest that you don't expect to dance through the entire song as a couple. It will be too long and when you are dancing with all your guests watching every second feels like a minute. A good way to do it is to dance for about a minute and a half and then ask your guests to join you on the dance floor; that way when the band starts everyone is ready to party.
You can either have your first dance played on a laptop or iPad and then the band will be ready on stage to start as soon as the song finishes, or you can ask the band to learn your first dance song, just remember to give them at least a month's notice to learn the song. 
A live video of a first dance
At Last – Etta James
Perfect – Ed Sheeran
My Girl – The temptations
For Once In My Life – Stevie Wonder
Something – The Beatles
Stand By Me – Ben E King
Let's Stay Together – Al Green
L.O.V.E – Nat King Cole
Last Request – Paolo Nutini
Theses Arms Of Mine – Otis Redding 
Booking a band for your wedding in France
What entertainment should you book during the ceremony, the cocktail reception and the dancing party?
Church ceremony
Should you consider having live music for when the beautiful bride walks down the aisle, here are a few important tips:
If you are getting married in a church then you can easily book a solo musician or a duo to play/sing without a PA, as the natural reverb and acoustic of the church will suffice.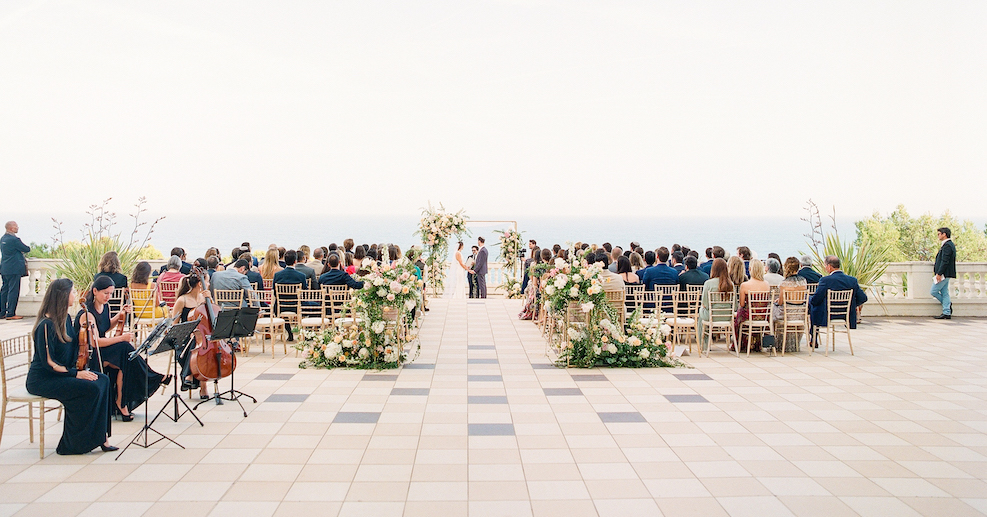 Outdoor ceremony 
If the ceremony is held outdoors and you have booked a solo/duo act with vocals, guitar or piano then a PA is a must, as often the song you will have chosen will be a slow song and not a loud party song.
Sound will get lost in an open area and you want to make sure that the guests sitting in the last row will hear all of the songs you have chosen so that everybody can be part of the experience.
Costs to book a band for the ceremony
Expect to pay between 500€ for a solo act and 1,800€ for a 4 piece (PA included).
It will be cheaper to hire musicians you have already booked for cocktail reception or for the after party for example. You can often get a discount because the band will already be on location.
At Lion Stone Events we offer: pianists, solo musicians, opera singers, classical orchestras, and bands.
Live bands performing during the ceremony
Acoustic band in a church without a sound system
Solo act outdoors with a sound system
Acoustic duo in a church without a sound system 
I recommend an acoustic band or a roving band for this part of the day.
What is a roving band?
A group of 4 or 5 musicians interacting with the crowd and often comprising of: 
Double bass
Percussionist
Guitarist
Saxophonist
Vocals
These bands perform without a sound system and usually every band member will sing harmonies to enhance the vocals and ensure the loudest performance. During cocktail or dinner the band will interact with guests. They will go from table to table and entertain all guests for at least one song each. They often play 3 or 4 sets of 20-30 minutes.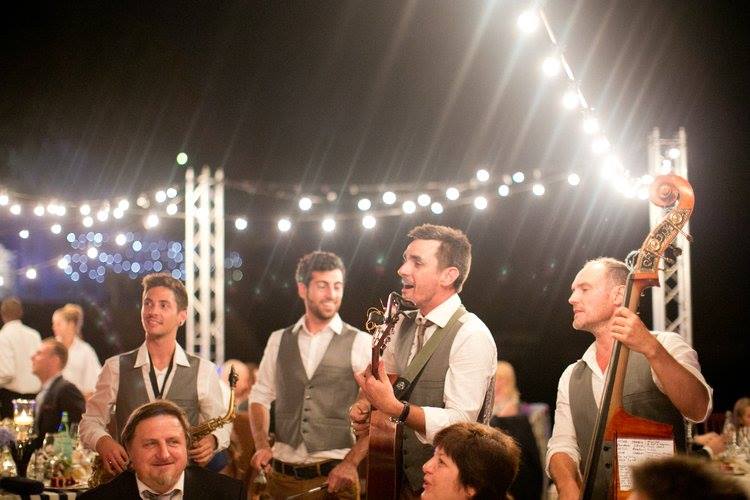 Roving bands are very popular, the fee starts at 2500€ and  can reach up to 6000€ for the most popular bands in France
Plugged in acoustic band
An acoustic band will perform with a sound system. The most common set up will be vocals, acoustic guitars for duos or trios, and some bands will add percussion, violin, sax or piano. A great professional band will make sure you can appreciate the music while your guests can still maintain a normal conversation during drinks reception.
The trio on the picture includes:
Vocals
Acoustic guitar
Percussion
The fee for an acoustic band is between 1,000€ for a duo to 2,000€ for a trio. 4 piece bands will start at 2,500€. The fee usually includes the sound system and 2 x 45 minute sets.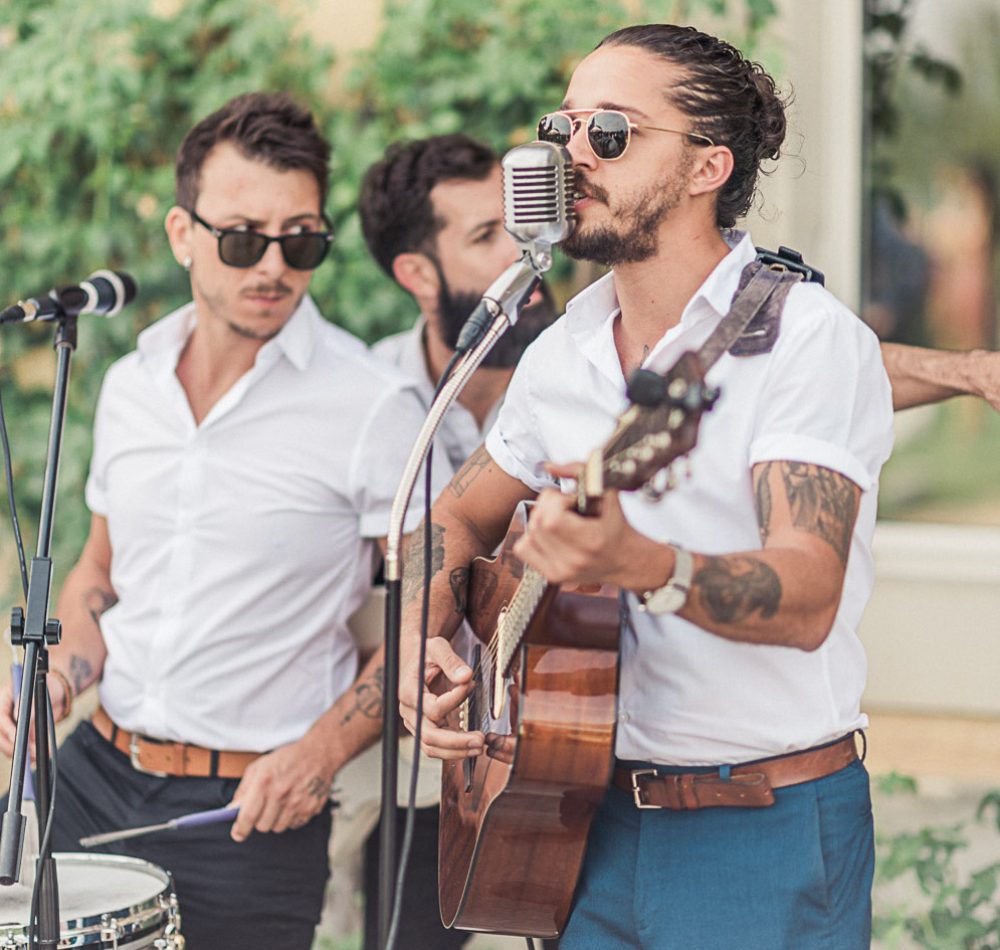 What does it sound like live?
The best wedding bands in France
This is the best part of the wedding – you can finally let go and have some fun! By this point, the wedding has gone well and your guests will have had plenty of booze and are ready to party! 
Quality bands with professional equipment will start from 3,000€ to about 5,000€ (this is not including travel expenses, accommodation and extra services). Bigger bands with singers,  horns sections etc… can start from 6,000€ to 15,000€
Make sure you check that the venue hasn't got any sound restrictions, especially if you would like the band to perform outdoors. If the venue allows you to have live music outside but only until 11pm, for example, then I strongly recommend you put the band indoors. Weddings run late! 
You paid a lot of money for a band to perform for 2 hours and you don't want to stress about the timeline all day.
A 4 or 5-piece party band usually includes:
Singer
Rhythm guitarist
Lead guitarist
Bassist 
Drummer
Keyboard player
Videos of party bands performing at weddings in France
A promo video of the band Four Kicks with pre recorded music 
Live footage taken from a phone at a château wedding in France
The band Spyglass performing a song by Dire Straits at a wedding in France
Does a band need a stage at a wedding?
A stage looks nice especially for weddings with over a 150 guests (so that those in the back can see the musicians perform). But it is not a must have, we have done plenty of weddings without a stage and it also works very well.
Should you want the band to perform on a stage, we recommend the following measurements:
4-piece band: 5m x 4m
5-piece bands: 6m x 4m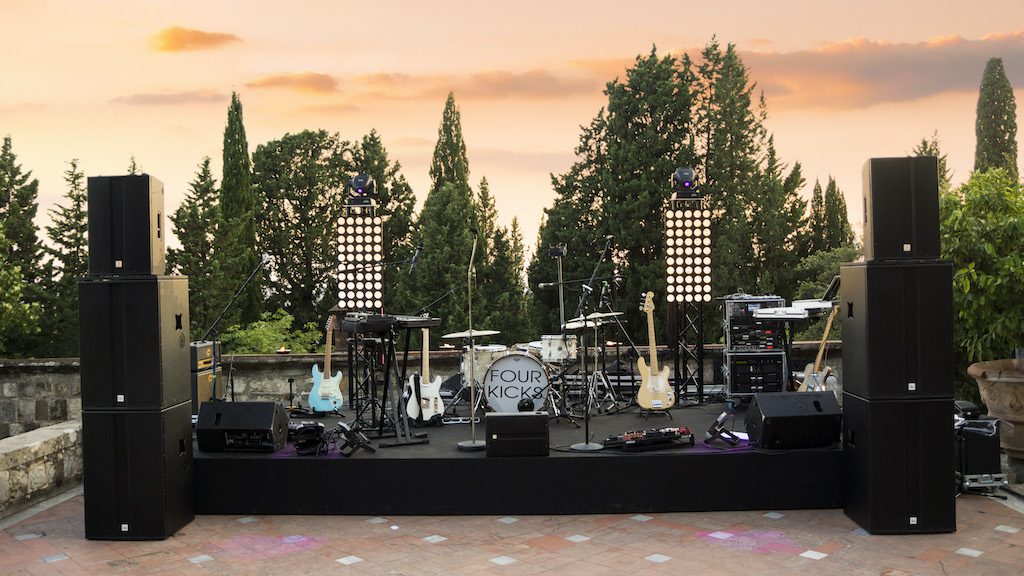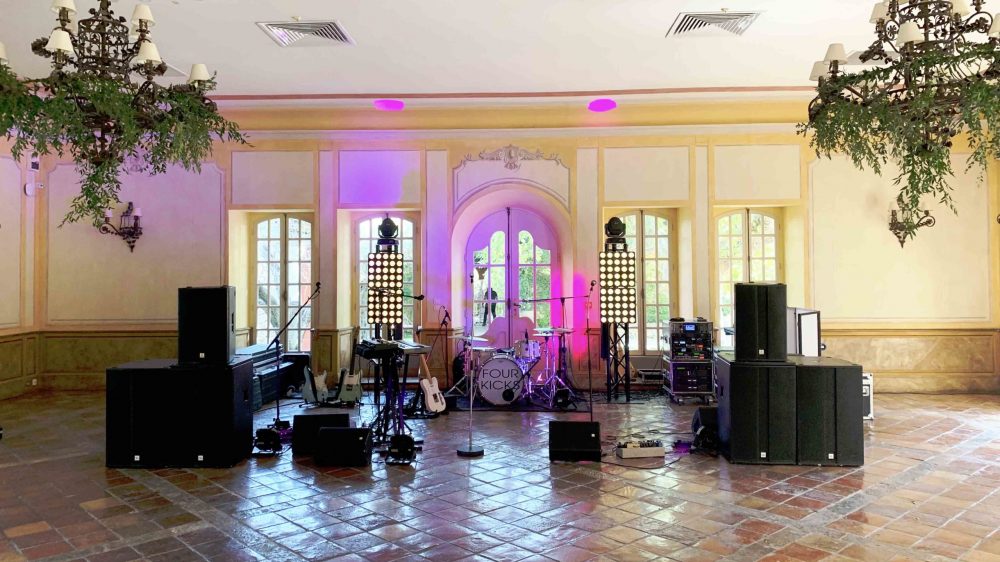 Sound restrictions at wedding venues in France
Sound restrictions
So, you are ready to book a great band and have an awesome party, but be very careful about noise restrictions in some venues in France! They can be very strict and unfortunately some venues are simply not suitable for live entertainment. Especially when they have a sound limiter installed.
What is a sound limiter?
A sound limiter is a noise measuring instrument fitted into a venue in order to control the sound created by a band or a DJ. Some sound limiters will automatically turn off the sound when 90dbs is reached. Most venues will have the sound limiter set to 90db which won't be suitable for a live band. Why? Because a drum kit will go over 90db even without the rest of the band playing! 
It is an acoustic instrument and the volume can not be controlled. We have even witnessed sound limiters reaching over 90dbs when a crowd is cheering and clapping at the end of a song.
What should you do? 
Don't panic if your venue has a sound limiter, have a chat with the venue owner and your band beforehand. 
We have booked live music in venues with a limiter in the past. We have a great selection of acoustic bands, roaming bands and smaller set ups so clients are not left without live music. It will be a lot easier for a DJ to stay within the limit as the volume can easily be controlled.
To help put things in perspective here is our guide to decibels:
Let us help making booking your wedding band in France as stress free as possible
I hope this article will help when it comes to booking your wedding band in France. Please feel free to send me an email if I haven't covered a specific topic, I will be happy to add it to this post to make the article as complete as possible.